March Book Drive for Children's Minnesota Star Studio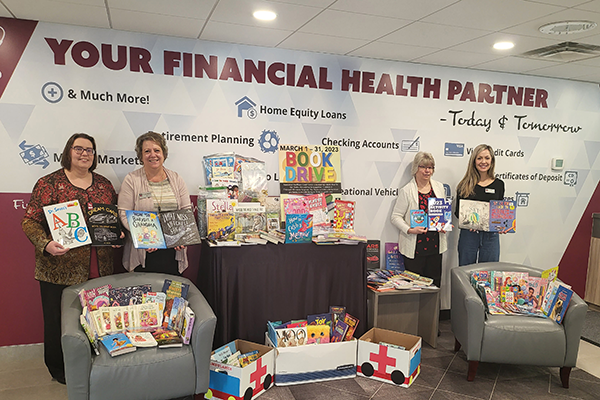 Throughout the month of March, we organized a Book Drive with the aim of helping young patients at Children's Minnesota Hospital located in Minneapolis and St. Paul. Our goal was to provide them with enjoyable reading materials to pass the time.
To accomplish this, we sent an e-mail to our membership which contained a link to an Amazon wish list with a selection of books that we had pre-chosen. Members were able to order these books with ease, and they were shipped directly to AHCU's Woodbury branch. We collected 251 books.
The collected books were then distributed through Star Studio, Children's Minnesota's in-house TV program. We are delighted to announce that on April 3rd, the books were donated to Star Studio, and we are grateful to our members who made this achievement possible.
Thank you for your generosity and support in making this event a success!
Pictured above (l to r) are Leslie, Theresa, Trish, and Liz from our Woodbury branch with donated books.
Black Friday Winner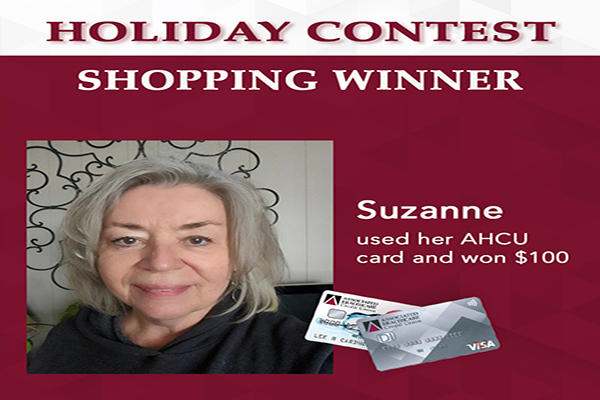 Between Black Friday and Cyber Monday, AHCU held a contest. All you needed to do was purchase something with your AHCU debit or credit card and you were entered into our drawing for $100.
Suzanne used her card and won! Congratulations Suzanne!
2022 Adopt A Unit
Throughout 2022, AHCU worked with coordinators at Mercy Hospital and Mercy's Unity Campus to identify hospital units to support.
Each month we delivered gift bags to our "Adopted Units" to remind them that what they do is greatly appreciated.
Below are some of the units we adopted showing hospital workers with AHCU swag.
Transport
Respiratory and Social Workers

Nutrition Services
2022 PCs for People Results
THANK YOU TO EVERYONE FOR A SUCCESSFUL TECHNOLOGY DRIVE!
Here are the results:
Our collection yielded 3,777 pounds of equipment that was kept out of the landfill.

58 PEOPLE, INCLUDING 35 KIDS HAVE BEEN IMPACTED BY OUR EQUIPMENT DONATIONS.

AVERAGE INCOME WAS $18,000, HOUSEHOLD SIZE OF 3.4 PERSONS, 48% HAD NEVER OWNED A HOME COMPUTER AND 53% WERE UNEMPLOYED.
It is through outreach like this that we help fulfill the "People Helping People" role that credit unions were designed to do. And we can only do that with your support; as you have so graciously demonstrated.
Walter Ramsey Awards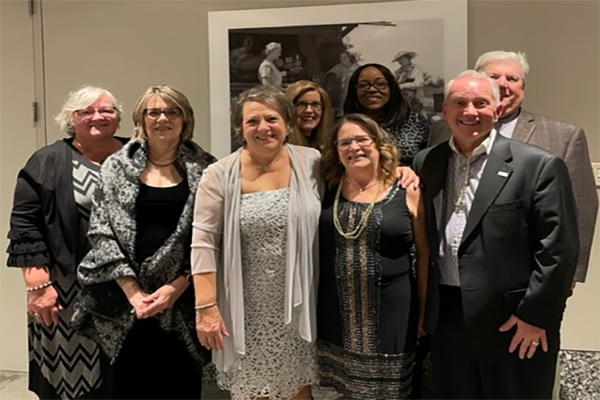 Pictured: Theresa Malone, center, along with AHCU Board Members and Colleagues attend the Children's Hospital Association Walter Ramsey Awards Benefit.
The Walter Ramsey Awards Benefit was created as a way to honor CHA's founding partner, Dr. Walter Ramsey, and celebrate our long legacy of supporting kids' health through community partnerships and volunteerism. This year, CHA is excited to gather in-person to celebrate the amazing individuals who make Children's Minnesota the Kid Experts, as well as highlight key community leaders in pediatric care here in the Twin Cities.
Rad Tech Week Winner!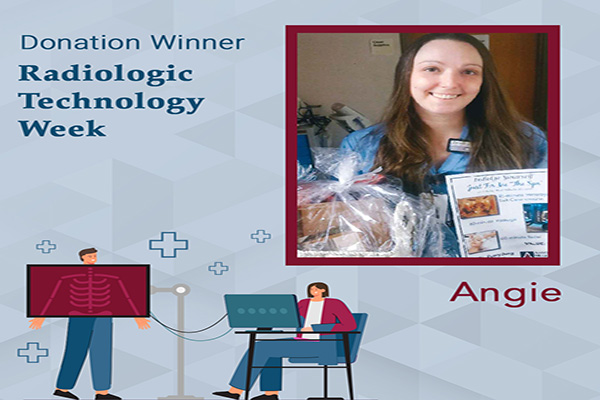 Angie was the lucky winner of a SPA day that AHCU donated to a Radiology Technology Week silent auction. Just what the doctor ordered, a relaxing day.
AHCU Celebrates Radiology Technology Week at Mercy Hospital in Coon Rapids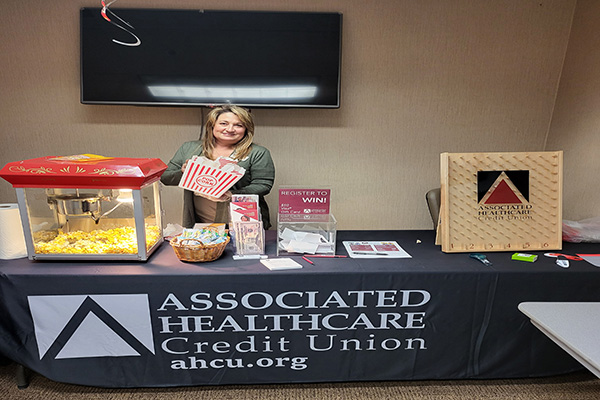 National Radiology Technology week is November 6 - 12. Margaret from AHCU's Mercy Hospital branch offers Popcorn, Prizes and Plinko to staff members.
courageArt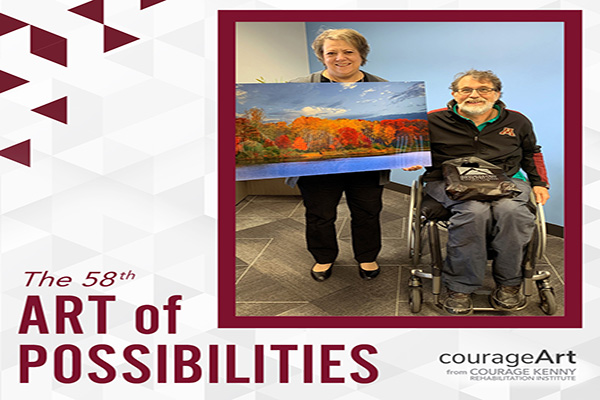 Pictured: Artist Dick Cumb and Associated Health Care Credit Union CEO Theresa
We are excited to share that our Woodbury branch will have new works of art from courageArt's 58th Art of Possibilities Art Show. Thank you to all the talented Artists for brightening our space.


Our courageArt wall as you enter the Woodbury branch.
The wall inside the Administration section of the Woodbury branch.
PCs for People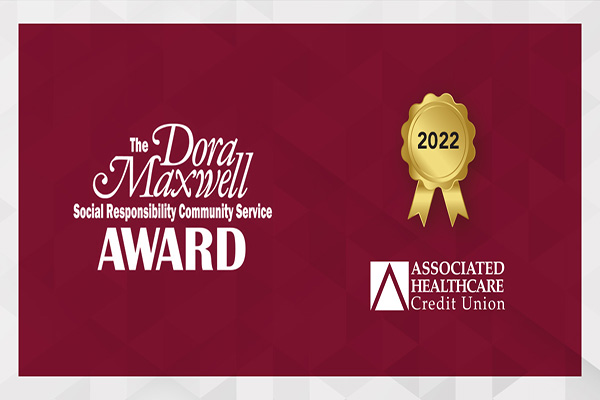 WOODBURY, Minn. – The Minnesota Credit Union Network (MnCUN), the state trade association for Minnesota's credit unions, has announced its state-level winners in several categories.
Associated Healthcare Credit Union (AHCU) is the 2022 Dora Maxwell Social Responsibility Community Service Award winner in the $50 - $250 million in assets category.
AHCU's submission was for their Technology Drive to benefit PCs for People, October 12 -14, 2021.
AHCU encouraged its members to donate their new, used, and broken technology so that it could be fixed and given to low-income families and non-profit organizations or recycled.
Over the three days of accepting technology donations, AHCU collected:
140 laptop computers, 82 computer towers, 81 monitors, 37 tablets, 51 printer/scanners, 80 keyboards, 77 cell phones, an absolute MOUNTAIN of speakers, mice and cable cords, plus a lot more.
According to Rebecca Duvick, Business Development Manager at PCs for People, "Your recent tech drive collected 8,262 pounds of retired electronics from your members - all of which will be refurbished or responsibly recycled with nothing ending up in the landfill!"
Additionally, 41 low-income individuals now have the equipment and the ability to access the internet because of AHCU's Technology Drive.
AHCU Now Serves St. Catherine University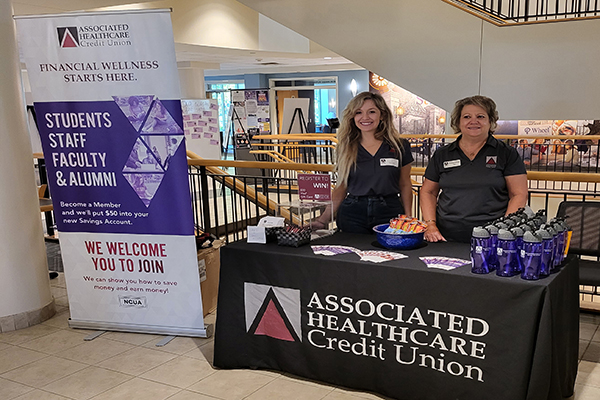 On August 31, 2022 Liz from our Woodbury Branch and Theresa, President / CEO, helped welcome new students at St. Catherine University in St. Paul, MN.
All St. Catherine University students, staff, faculty and alumni are now eligible to join Associated Healthcare Credit Union.
Go Wildcats!